Since 1988, the United State Department of Energy and numerous North American automotive leaders have sponsored Advanced Vehicle Technology Competitions in an effort to actively engage university students with automotive experience through the hands-on application of concepts learned in university curriculum combined with the latest automotive technologies. The Pennsylvania State University Advanced Vehicle Team (PSU AVT) competed against fifteen other North American universities in the 2014 to 2018 EcoCAR 3 competition, sponsored by the U.S. Department of Energy and General Motors and managed under the Argonne National Laboratory.
During the EcoCAR 3 competition, the team transformed a gasoline-only 2016 Chevrolet Camaro into a plug-in hybrid electric vehicle while simultaneously reducing harmful environmental pollutants. The competition is now over but the team continues to strive for that same goal. By mirroring the vehicle development process developed by General Motors, Penn State students are able to experience an industry-level vehicle launch process, from inception to completion.
Advanced Vehicle Technology Competitions actively engage university students in hands-on experience working with cutting-edge automotive technologies. Through annual competition deliverables and testing, EcoCAR 3 challenged students to reduce the vehicle's overall emissions and energy consumptions without altering the consumer appeal inherent in sports cars like the 2016 Chevrolet Camaro.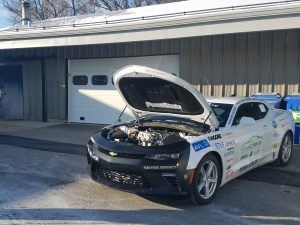 Over the course of four years, each team was required to redesign a pre-production 2016 Chevrolet Camaro into a fuel-efficient hybrid electric vehicle that simultaneously reduced the vehicle's harmful environmental pollutants without compromising the vehicle's design and performance. The EcoCAR 3 competition equipped university students with unparalleled automotive experience through advanced technologies while fostering the growth of management and leadership expertise in a vehicle development process mirroring that of leading automotive industries.